Published
: 2017-12-14
Last Updated
: 2017-12-15 05:00:21 UTC
by
Russ McRee
(Version: 1)
2 comment(s)
Me when I discovered @Centurion's Detection Lab.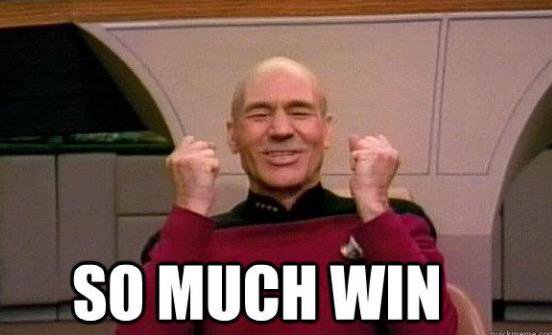 Chris Long, Detection & Incident Response Analyst at Palantir, released Detection Lab this past Monday. From his own Medium post, "Detection Lab is a collection of Packer and Vagrant scripts that allow you to quickly bring a Windows Active Directory online, complete with a collection of endpoint security tooling and logging best practices."
Detection Lab consists of four hosts:
DC: A Windows 2016 domain controller
WEF: A Windows 2016 server that manages Windows Event Collection
Win10: A Windows 10 host simulating a non-server endpoint
Logger: An Ubuntu 16.04 host that runs Splunk and a Fleet server
From the Detection Lab GitHub, "this lab has been designed with defenders in mind. Its primary purpose is to allow the user to quickly build a Windows domain that comes pre-loaded with security tooling and some best practices when it comes to system logging configurations. It can easily be modified to fit most needs or expanded to include additional hosts."
The feature list should close the deal for you:
Splunk forwarders are pre-installed and all indexes are pre-created. Technology add-ons for Windows are also preconfigured.
A custom Windows auditing configuration is set via GPO to include command line process auditing and additional OS-level logging
Palantir's Windows Event Forwarding subscriptions and custom channels are implemented
Powershell transcript logging is enabled. All logs are saved to \\wef\pslogs
osquery comes installed on each host and is pre-configured to connect to a Fleet server via TLS. Fleet is preconfigured with the configuration from Palantir's osquery Configuration
Sysmon is installed and configured using SwiftOnSecurity's open-sourced configuration
All autostart items are logged to Windows Event Logs via AutorunsToWinEventLog
SMBv1 Auditing is enabled
Chris really wanted defenders to "have a quick and easy way to bring up a lab environment, complete with tooling and pre-configured logging." Detection Lab represents many of his weekends worth of work, over many months, and for that, we salute him. Well done, Chris!
2 comment(s)
Published
: 2017-12-14
Last Updated
: 2017-12-14 05:01:09 UTC
by
Russ McRee
(Version: 1)
0 comment(s)
Just in time for holiday visits with your familes and friends, soon you will face the inevitable questions, particularly if you're a security practitioner of any sort. "There are always questions about whether the devices and services we use respect our privacy, and if they adequately safeguard our information. Has a good balance been struck? Many of us are not sure. It is easy to feel overwhelmed by the challenge of how to be safer online." Search for "how to be safe online" and you'll receive inconsistent results to be certain. Who hasn't had Mom or Dad, or your friends for that matter, ask your help to be more secure? To help rectify such situations, the Citizen Lab just released Security Planner.
All you need do is answer a few simple questions to receive personalized online safety recommendations. The app requires no personal information or access to any of your online accounts, it's confidential and can immediately help improve your online safety, with advice from experts. This is definitely something you can sit your parents down in front of knowing that, if they apply the recommendations provided after answering some very straightforward questions, they'll benefit from an improved online security posture.
"Security Planner recommendations are research-based best practices, kept up-to-date by a community of experts in digital security. Quality is maintained through a careful peer-review process: a committee of recognized experts regularly reviews and updates the survey questions and recommendations based on the latest research."
You can read the detailed philosophy behind Security Planner here.
For you, your friends, your family, the road to improved privacy, security, and safety online starts here: https://securityplanner.org
0 comment(s)
×
Diary Archives