Published
: 2013-03-19
Last Updated
: 2013-03-19 17:37:08 UTC
by
Johannes Ullrich
(Version: 1)
4 comment(s)
This one made it past my (delibertly porous) spam filter today. We don't cover these usually, as there are just too many of them (I just got another facebook related one while typing this). But well, from time to time its fun to take a closer look, and they make good slides for awareness talks.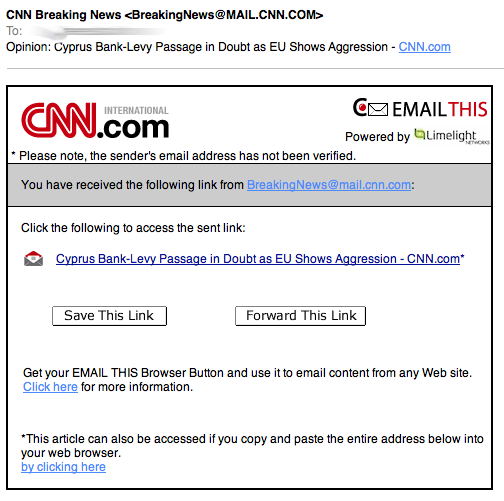 The initial link sends the user to hxxp:// swiat-feromonow.pl / wiredetails.html which redirects the users to the usual obfuscated javascript at hxxp:// salespeoplerelaunch. org/ close/printed_throwing-interpreting-dedicated.php .
The later page not only uses javascript, but in addition for good measure will also try to run a java applet. Wepawet, as usual has no issues analyzing the file [1]. It discovers the usual browser plugin fingerprinting code, but no specific exploits.
ok. cool... yet more malware. But I didn't want to leave it at that, and went ahead to try and get that site shut down. First stop: whois salexpeoplerelaunch.org . The result is a legit looking contact in Michigan with a phone number, which has been disconnected :( ... so I am trying an e-mail to the listed e-mail address (just sent... no response yet, but will update this diary if I get one)
Moving on to the IP address. It is assigned to https://www.wholesaleinternet.net , a low cost dedicated server / colocation provider. Sending them an abuse request now via email, and again, will update this diary if I hear from them. Interestingly, the IP address is not "known" to serve any other domains based on a quick check of some passive DNS replication systems. I also sent an email to abuse @ szara.net which hosts the domain swiat-feromonow.pl.
Lets see how long the link will stay up.
[1] http://wepawet.iseclab.org/view.php?hash=dbeb07e4d46aa4cbd38617a925499c22&type=js
------
Johannes B. Ullrich, Ph.D.
SANS Technology Institute
Twitter
4 comment(s)
×
Diary Archives