Published
: 2014-09-15
Last Updated
: 2014-09-15 17:51:13 UTC
by
Johannes Ullrich
(Version: 1)
3 comment(s)
For a few weeks now, I keep receiving a few "Delta Ticket" e-mails a day with zipped executables as attachments. The e-mails are done about as bad as it gets:
The "From" address uses a random domain
The e-mail does not use the typical "Delta" formating/branding.
The attachment is a straight executable, just zipped.
Antivirus is ok on a new sample received right now (8/55 according to virustotal) and excellent (>30/55) on older samples. [1]
The e-mail (flight information) is very specific and does not appear to be customized to the sender
Delta doesn't send tickets as attachments like this.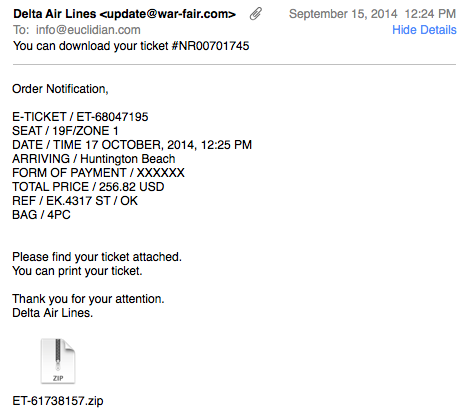 So they could do a lot better. The sad part is, that they apparently have no need to do better.
The "From" name, which is what most people are looking at, reads "Delta Air Lines". Some major/popular AV tools still don't detect it well at all, and well, users like to click on stuff I guess.
The initial piece of malware appears to be a generic downloader. In my system, it installed what looked like a fake Adobe update. Still running it to see what is exactly going on, but not expecting too much.
[1] https://www.virustotal.com/en/file/4cf652e71bbbe37eecda58169471df27db15ca1e5a8f14006128a4883b095409/analysis/1410799974/
 
Keywords:
3 comment(s)
×
Diary Archives