Published
: 2019-05-14
Last Updated
: 2019-05-14 21:06:46 UTC
by
Renato Marinho
(Version: 2)
4 comment(s)
This month we got patches for 79 vulnerabilities from Microsoft and 1 from Adobe. From those, 23 are critical and 2 were previously known - including the one that has been exploited in the wild.
The exploited vulnerability (CVE-2019-0863) affects the way Windows Error Reporting (WER) handles files. It may allow a local attacker to elevate privileges and run arbitrary code in kernel mode. The CVSS V3 for this vulnerability is 7.8.
The other previously known (CVE-2019-0932) is an information disclosure vulnerability which affects Skype for Android. Exploiting this vulnerability, an attacker could listen to the conversation of a Skype for Android without the user's knowledge.
Amongst critical vulnerabilities, it worth mentioning a remote code execution in Windows Remote Desktop Services (CVE-2019-0708). An unauthenticated attacker may exploit this vulnerability by sending specially crafted packets to the vulnerable service and then execute arbitrary code on the target system. It affects Windows 7 and Windows Server 2008. The CVSS V3 score for this vulnerability is 9.8.
Last but not least, we have a new critical remote execution vulnerability affecting GDI+ (Windows Graphics Device Interface). An attacker could exploit this vulnerability by convincing the user to open a specially crafted attachment in an e-mail or instant messenger, for example. The CVSS V3 for this vulnerability is 8.8.
UPDATE: Today's Patch Tuesday also addresses the new CPU side-channel attack published today known as Zombieload [1] (ADV190013). As Meltdown, Spectre, and Foreshadow the new flaw may allow an attacker to steal sensitive data and keys being processed by the CPU. To fix the issue you must apply OS updates provided by Microsoft today (not available for all versions yet) and firmware microcode from device OEMs. The details for this advisory are available at https://portal.msrc.microsoft.com/en-US/security-guidance/advisory/ADV190013.
See Renato's dashboard for a more detailed breakout: https://patchtuesdaydashboard.com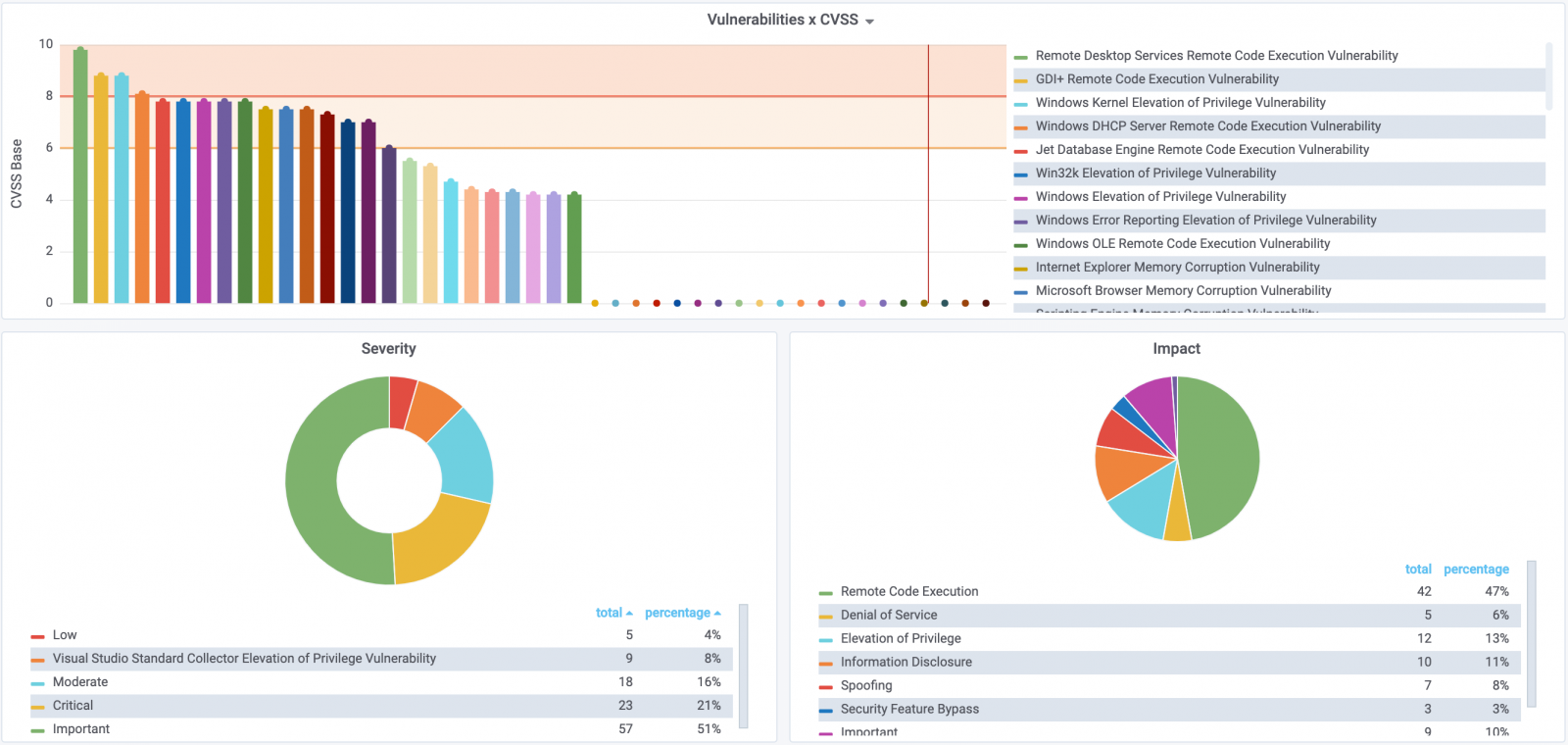 Description
CVE
Disclosed
Exploited
Exploitability (old versions)
current version
Severity
CVSS Base (AVG)
CVSS Temporal (AVG)
.NET Framework Denial of Service Vulnerability
CVE-2019-0864
No
No
Less Likely
Less Likely
Important
.NET Framework and .NET Core Denial of Service Vulnerability
CVE-2019-0820
No
No
Less Likely
Less Likely
Important
.Net Framework and .Net Core Denial of Service Vulnerability
CVE-2019-0980
No
No
Less Likely
Less Likely
Important
CVE-2019-0981
No
No
Less Likely
Less Likely
Important
ASP.NET Core Denial of Service Vulnerability
CVE-2019-0982
No
No
Less Likely
Less Likely
Important
Azure DevOps Server and Team Foundation Server Cross-site Scripting Vulnerability
CVE-2019-0872
No
No
Less Likely
Less Likely
Important
CVE-2019-0979
No
No
-
-
Important
Azure DevOps Server and Team Foundation Server Information Disclosure Vulnerability
CVE-2019-0971
No
No
Less Likely
Less Likely
Important
Chakra Scripting Engine Memory Corruption Vulnerability
CVE-2019-0912
No
No
-
-
Critical
4.2
3.8
CVE-2019-0913
No
No
-
-
Critical
4.2
3.8
CVE-2019-0914
No
No
-
-
Critical
4.2
3.8
CVE-2019-0915
No
No
-
-
Critical
4.2
3.8
CVE-2019-0916
No
No
-
-
Critical
4.2
3.8
CVE-2019-0917
No
No
-
-
Critical
4.2
3.8
CVE-2019-0922
No
No
-
-
Critical
4.2
3.8
CVE-2019-0923
No
No
-
-
Important
4.2
3.8
CVE-2019-0924
No
No
-
-
Critical
4.2
3.8
CVE-2019-0925
No
No
-
-
Critical
4.2
3.8
CVE-2019-0927
No
No
-
-
Critical
4.2
3.8
CVE-2019-0933
No
No
-
-
Critical
4.2
3.8
CVE-2019-0937
No
No
-
-
Critical
4.2
3.8
Diagnostic Hub Standard Collector, Visual Studio Standard Collector Elevation of Privilege Vulnerability
CVE-2019-0727
No
No
Less Likely
Less Likely
Important
6.7
6.0
GDI+ Remote Code Execution Vulnerability
CVE-2019-0903
No
No
More Likely
More Likely
Critical
8.8
7.9
Internet Explorer Information Disclosure Vulnerability
CVE-2019-0930
No
No
More Likely
More Likely
Important
2.4
2.2
Internet Explorer Memory Corruption Vulnerability
CVE-2019-0929
No
No
-
-
Critical
7.5
6.7
Internet Explorer Security Feature Bypass Vulnerability
CVE-2019-0995
No
No
-
-
Important
7.3
6.6
Internet Explorer Spoofing Vulnerability
CVE-2019-0921
No
No
Less Likely
Less Likely
Important
2.4
2.2
Jet Database Engine Remote Code Execution Vulnerability
CVE-2019-0893
No
No
Less Likely
Less Likely
Important
7.8
7.0
CVE-2019-0894
No
No
Less Likely
Less Likely
Important
7.8
7.0
CVE-2019-0895
No
No
Less Likely
Less Likely
Important
7.8
7.0
CVE-2019-0896
No
No
Less Likely
Less Likely
Important
7.8
7.0
CVE-2019-0897
No
No
Less Likely
Less Likely
Important
7.8
7.0
CVE-2019-0898
No
No
Less Likely
Less Likely
Important
7.8
7.0
CVE-2019-0899
No
No
Less Likely
Less Likely
Important
7.8
7.0
CVE-2019-0900
No
No
Less Likely
Less Likely
Important
7.8
7.0
CVE-2019-0901
No
No
Less Likely
Less Likely
Important
7.8
7.0
CVE-2019-0902
No
No
Less Likely
Less Likely
Important
7.8
7.0
CVE-2019-0889
No
No
Less Likely
Less Likely
Important
7.8
7.0
CVE-2019-0890
No
No
Less Likely
Less Likely
Important
7.8
7.0
CVE-2019-0891
No
No
Less Likely
Less Likely
Important
7.8
7.0
Latest Servicing Stack Updates
ADV990001
No
No
-
-
Critical
May 2019 Adobe Flash Security Update
ADV190012
No
No
-
-
Critical
Microsoft Azure AD Connect Elevation of Privilege Vulnerability
CVE-2019-1000
No
No
Less Likely
Less Likely
Important
Microsoft Browser Memory Corruption Vulnerability
CVE-2019-0940
No
No
More Likely
More Likely
Critical
7.5
6.7
Microsoft Dynamics On-Premise Security Feature Bypass
CVE-2019-1008
No
No
Less Likely
Less Likely
Important
Microsoft Edge Elevation of Privilege Vulnerability
CVE-2019-0938
No
No
-
-
Important
4.2
3.8
Microsoft Edge Memory Corruption Vulnerability
CVE-2019-0926
No
No
-
-
Critical
4.2
3.8
Microsoft Guidance to mitigate Microarchitectural Data Sampling vulnerabilities
ADV190013
No
No
More Likely
More Likely
Important
Microsoft Office Access Connectivity Engine Remote Code Execution Vulnerability
CVE-2019-0945
No
No
Less Likely
Less Likely
Important
CVE-2019-0946
No
No
Less Likely
Less Likely
Important
CVE-2019-0947
No
No
-
-
Important
Microsoft Office SharePoint XSS Vulnerability
CVE-2019-0963
No
No
-
-
Important
Microsoft SQL Server Analysis Services Information Disclosure Vulnerability
CVE-2019-0819
No
No
Less Likely
Less Likely
Important
Microsoft SharePoint Elevation of Privilege Vulnerability
CVE-2019-0957
No
No
Less Likely
Less Likely
Important
CVE-2019-0958
No
No
Less Likely
Less Likely
Important
Microsoft SharePoint Server Information Disclosure Vulnerability
CVE-2019-0956
No
No
-
-
Important
Microsoft SharePoint Server Remote Code Execution Vulnerability
CVE-2019-0952
No
No
-
-
Important
Microsoft SharePoint Spoofing Vulnerability
CVE-2019-0949
No
No
-
-
Important
CVE-2019-0950
No
No
-
-
Important
CVE-2019-0951
No
No
-
-
Important
Microsoft Word Remote Code Execution Vulnerability
CVE-2019-0953
No
No
Less Likely
Less Likely
Critical
NuGet Package Manager Tampering Vulnerability
CVE-2019-0976
No
No
Less Likely
Less Likely
Important
Remote Desktop Services Remote Code Execution Vulnerability
CVE-2019-0708
No
No
-
-
Critical
9.8
8.8
Scripting Engine Memory Corruption Vulnerability
CVE-2019-0884
No
No
More Likely
More Likely
Critical
6.4
5.8
CVE-2019-0911
No
No
More Likely
More Likely
Critical
7.5
6.7
CVE-2019-0918
No
No
More Likely
More Likely
Critical
7.5
6.7
Skype for Android Information Disclosure Vulnerability
CVE-2019-0932
Yes
No
Less Likely
Less Likely
Important
Unified Write Filter Elevation of Privilege Vulnerability
CVE-2019-0942
No
No
Less Likely
Less Likely
Important
4.4
4.0
Win32k Elevation of Privilege Vulnerability
CVE-2019-0892
No
No
More Likely
More Likely
Important
7.8
7.0
Windows DHCP Server Remote Code Execution Vulnerability
CVE-2019-0725
No
No
Less Likely
Less Likely
Critical
8.1
7.3
Windows Defender Application Control Security Feature Bypass Vulnerability
CVE-2019-0733
No
No
Less Likely
Less Likely
Important
5.3
4.8
Windows Elevation of Privilege Vulnerability
CVE-2019-0734
No
No
Less Likely
Less Likely
Important
7.8
7.0
CVE-2019-0936
No
No
More Likely
More Likely
Important
7.8
7.0
Windows Error Reporting Elevation of Privilege Vulnerability
CVE-2019-0863
Yes
Yes
Detected
Detected
Important
7.8
7.0
Windows GDI Information Disclosure Vulnerability
CVE-2019-0882
No
No
More Likely
More Likely
Important
4.7
4.2
CVE-2019-0961
No
No
More Likely
More Likely
Important
4.7
4.2
CVE-2019-0758
No
No
More Likely
More Likely
Important
4.7
4.2
Windows Hyper-V Information Disclosure Vulnerability
CVE-2019-0886
No
No
Less Likely
Less Likely
Important
5.5
5.0
Windows Kernel Elevation of Privilege Vulnerability
CVE-2019-0881
No
No
More Likely
More Likely
Important
8.8
7.9
Windows NDIS Elevation of Privilege Vulnerability
CVE-2019-0707
No
No
More Likely
More Likely
Important
7.0
6.3
Windows OLE Remote Code Execution Vulnerability
CVE-2019-0885
No
No
More Likely
More Likely
Important
7.8
7.0
Windows Storage Service Elevation of Privilege Vulnerability
CVE-2019-0931
No
No
More Likely
More Likely
Important
7.0
6.3
References
[1] https://zombieloadattack.com/
--
Renato Marinho
Morphus Labs| LinkedIn| Twitter
Keywords:
4 comment(s)
×
Diary Archives