Published
: 2018-11-29
Last Updated
: 2018-11-29 02:45:05 UTC
by
Brad Duncan
(Version: 1)
1 comment(s)
Introduction
Shade ransomware was spotted in the wild as early as 2014, and it was first called Troldesh. I previously wrote an ISC diary on malicious spam (malspam) pushing Troldesh ransomware two years ago in November 2016, and I also documented a later example in March 2017.
However, Shade/Troldesh ransomware has been spotted in the wild since then. I searched Twitter and found a handful of sightings in the past few weeks. Today's diary reviews recent examples from a campaign using Russian-language malspam to push Shade/Troldesh, and it also examines an infection from Wednesday 2018-11-28.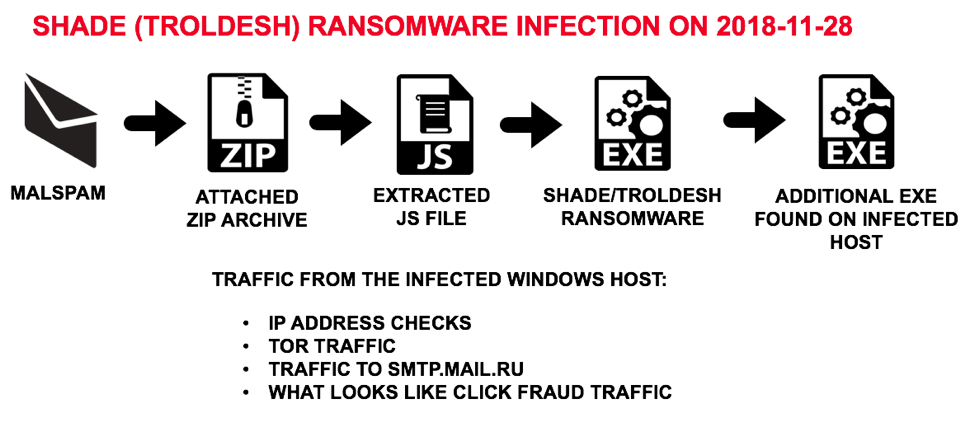 Shown above: Flow chart for the Shade/Troldesh infection I saw in my lab.
Recent campaign since October 2018
This investigation started after I ran across a Russian language email with an attachment that caused a Shade/Troldesh ransomware infection after I checked it in my lab environment. I hadn't paid much attention to this ransomware family in a while, so I decided to look into it.
My first step in the investigation was checking URLhaus. There I found approximately 50 URLs reported as an executable and tagged either Shade or Troldesh (or both) since October 2018. Many of these URLs ended with sserv.jpg, and a search on that revealed 71 URLs reported since 2018-11-01. I added more URLs after my investigation. Not all of these URLs reported to URLhaus were tagged Shade or Troldesh, but they fit the same general pattern that I'd seen from my infection traffic.
Searching through VirusTotal Intelligence, I found Russian language malspam with attached zip archives pushing Shade/Troldesh ransomware since at least 2018-10-30. I collected 12 examples to investigate for this diary.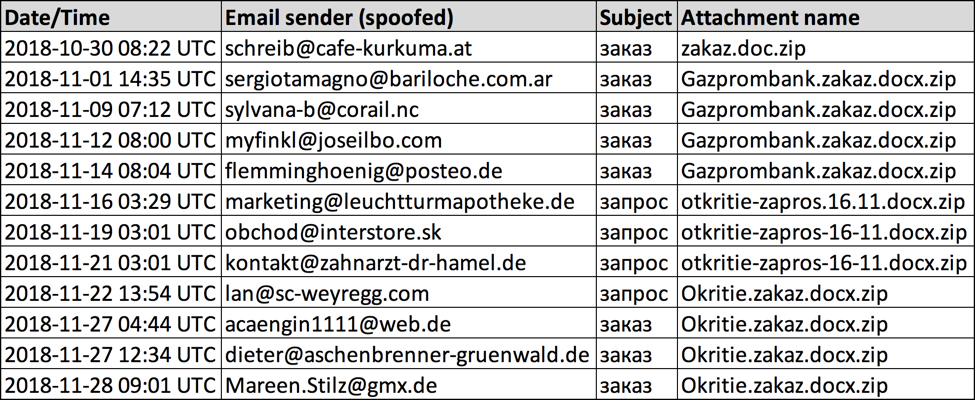 Shown above: Data from 12 malspam examples I collected.
The malspam
The emails are in Russian, and they claim an order or a request from a bank.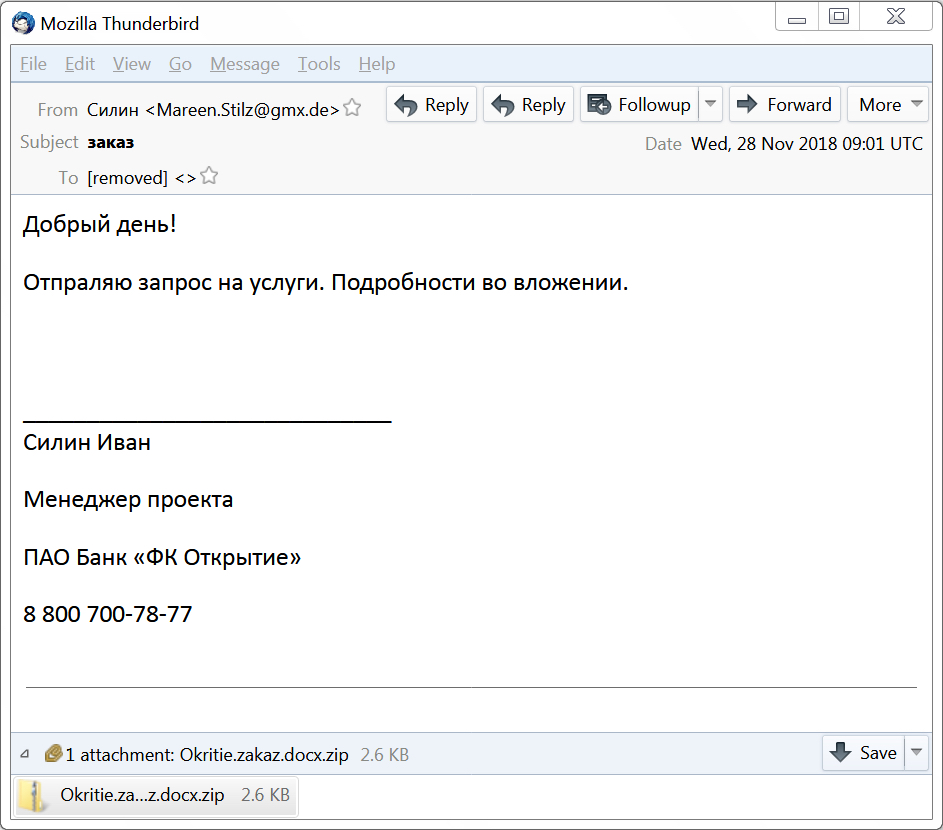 Shown above: Screenshot from one of the emails.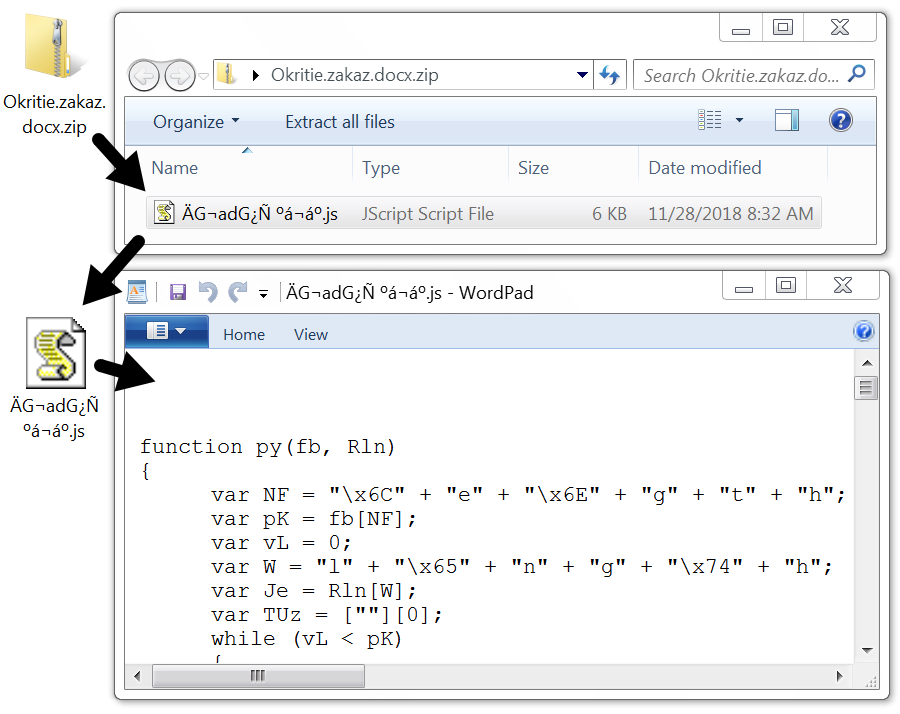 Shown above: The attached zip archive contains a .js file.
An infected Windows host
Potential victims would need to be on a vulnerable Windows host with poor security measures. Victims would open the attached zip archive, then they would need to double-click the JavaScript (.js) file contained in the archive. This causes their Windows computer to retrieve Shade/Troldesh ransomware and become infected. The ransomware infection quickly becomes obvious.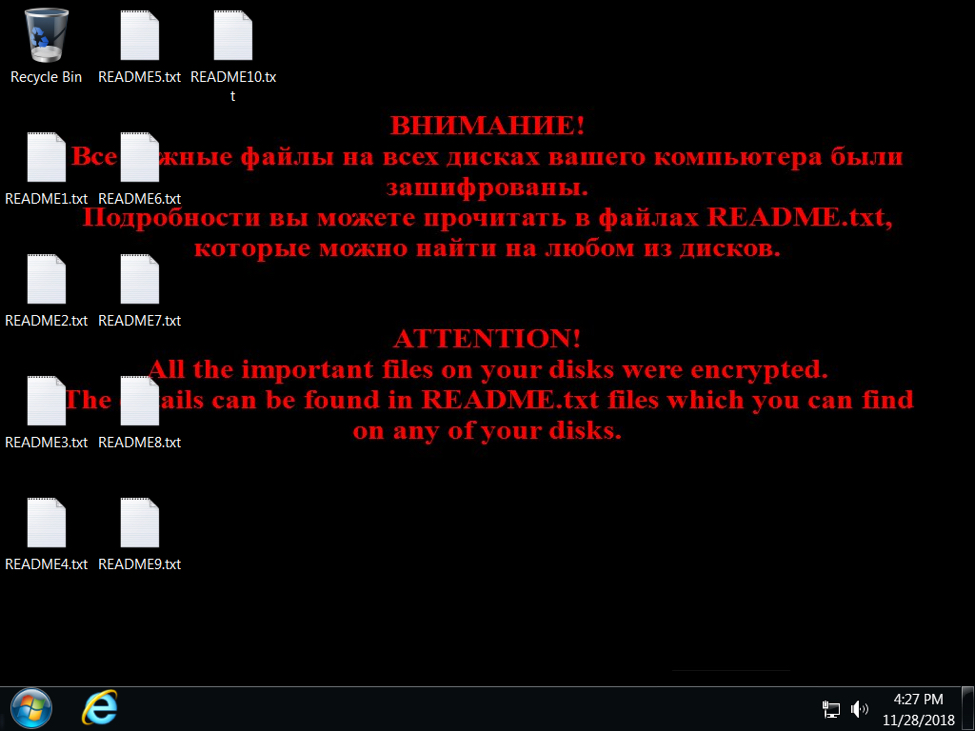 Shown above: Desktop of an infected Windows host.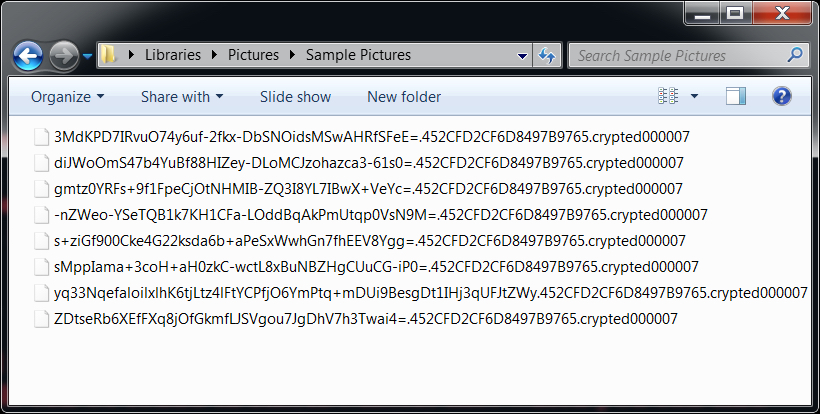 Shown above: All encrypted file named end with .crypted000007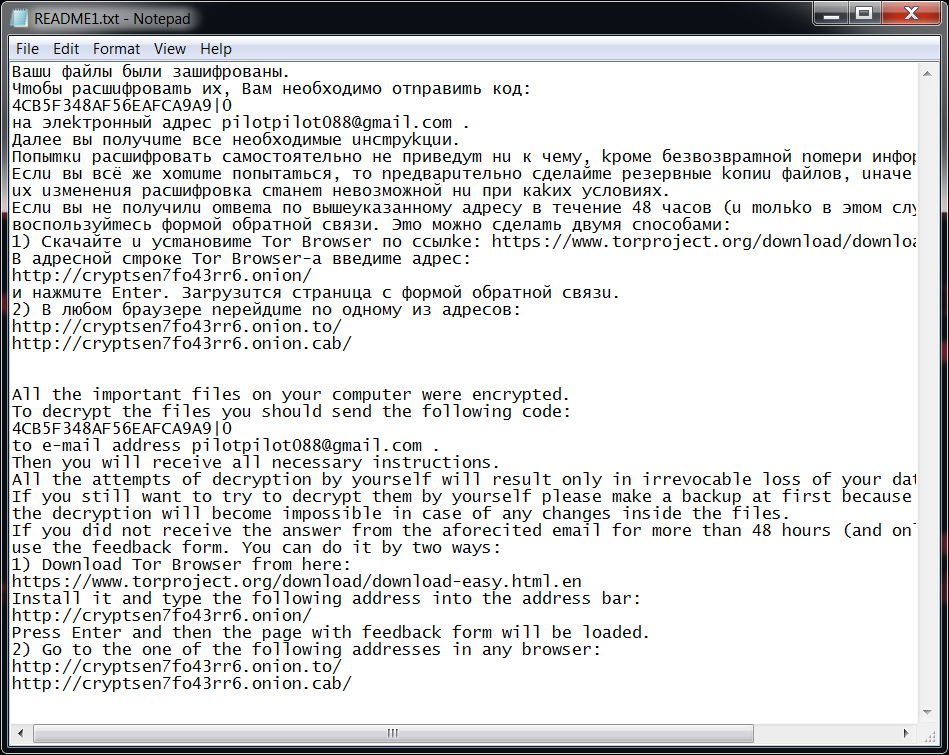 Shown above: The ransom payment instructions are written in both Russian and English.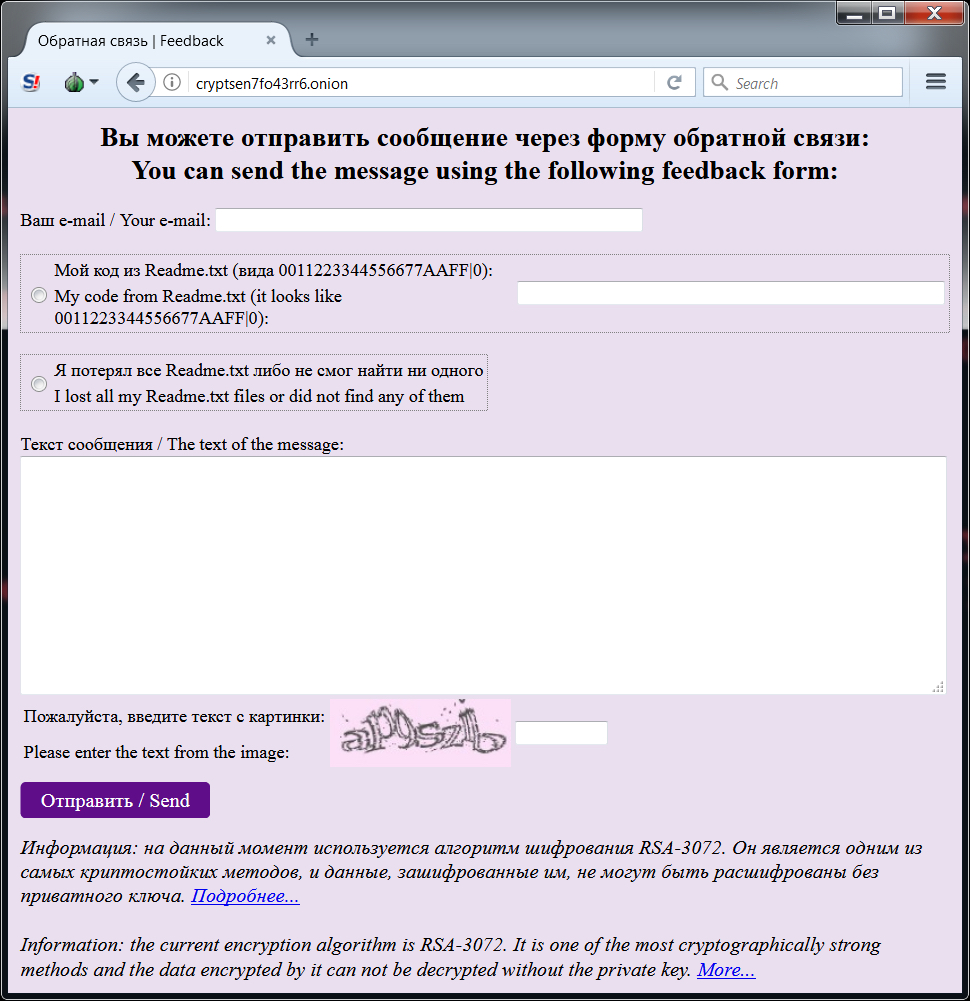 Shown above: Tor page where victims would start a discussion about the ransom payment.

Shown above: Malware from the infection persistent on the infected Windows host.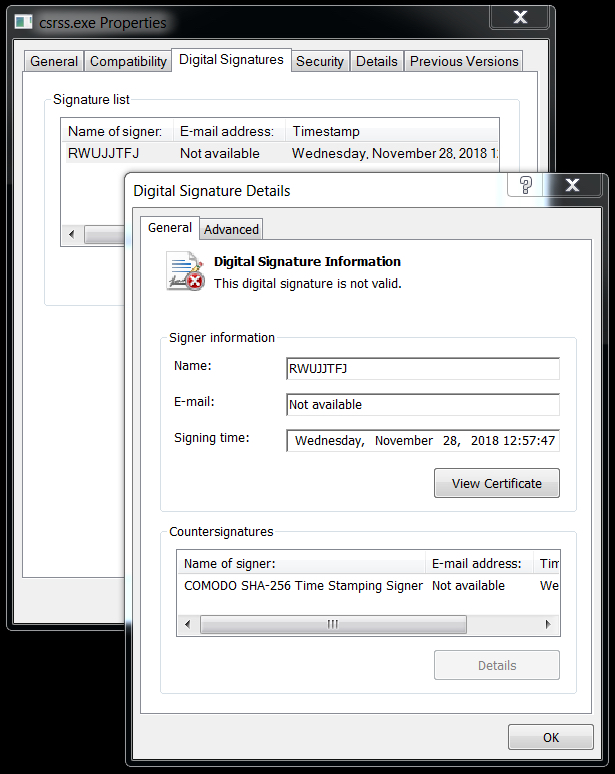 Shown above: Certificate data from one of the malware executable files.
Infection traffic
Almost immediately after the initial Shade/Troldesh malware binary is retrieved, the infected host generated Tor traffic. Then the infected host checked it's IP address and generated encrypted SMTP traffic to smtp.mail.ru.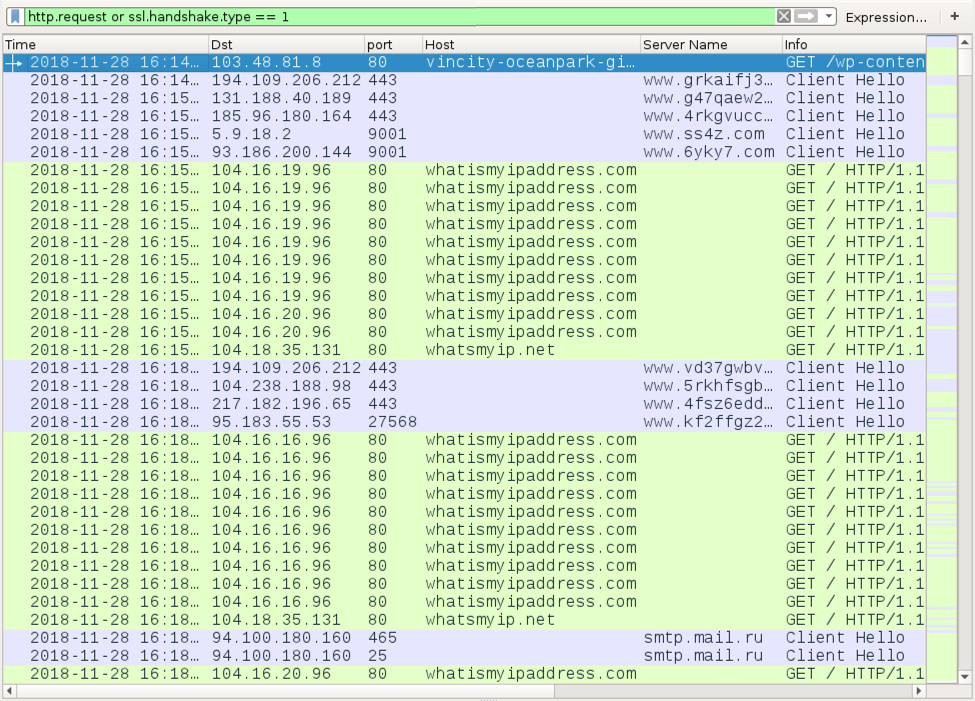 Shown above: Filtered in Wireshark, the initial infection traffic after a .js file was executed.
After four cycles of IP address checks and SMTP traffic, the infected Windows host generated a great deal of web traffic. This reminded me of click-fraud traffic.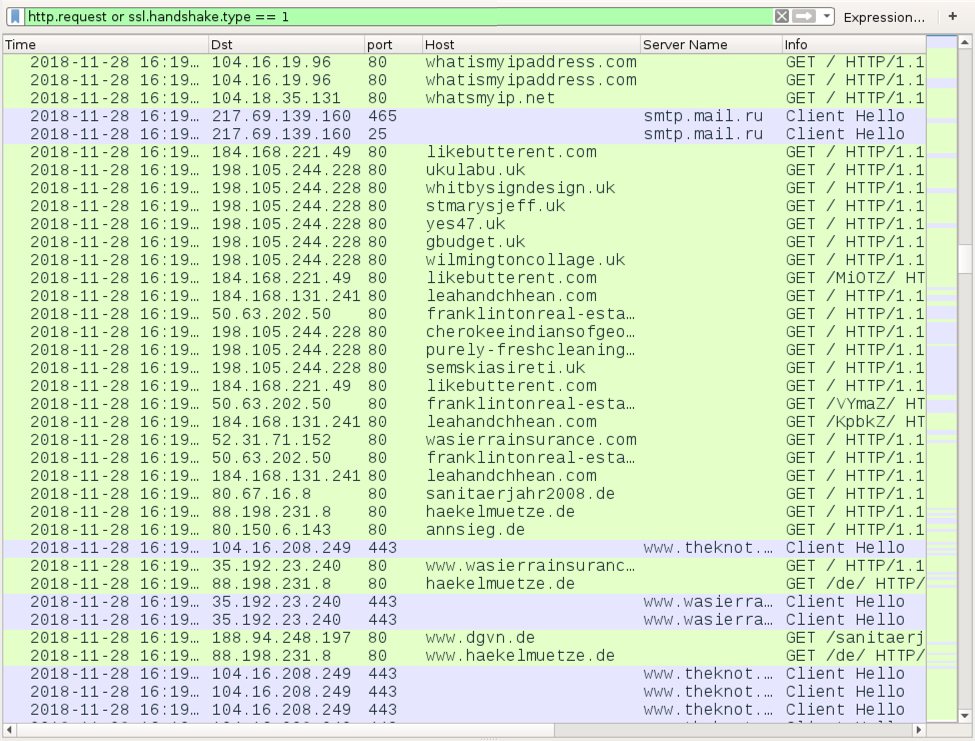 Shown above: Possible click-fraud traffic approximately 5 minutes later.
Indicators
The following are indicators from this malspam campaign and the associated infections:
Examples found dated as early as 2018-10-30
Various spoofed sending email addresses
Attachment names noted so far:
zakaz.doc.zip
Gazprombank.zakaz.docx.zip
otkritie-zapros-16-11.docx.zip
Okritie.zakaz.docx.zip
Some SHA256 hashes for attached zip archives:
249b86cc2bd5b28f77b9a61b1b66ed704aefe0be27e44e4e620c65b61b089b92
ff87a5ca1ee240be8f788c3c3affeee46dea2a63c8cd9963130dcb223388dc6f
b339aa8060210319472e5fcf935e509c95224c6933fc16e9468d8b48773a5950
c70163783d5ce1307802a551b8ef0c080a3881ed90c41685e2624135ea5fd6e2
4179695f015fb1c8337be67a2e974fcf5dc4fa4b116f6223763b10e67d76b1a1
1f5de330ceef0c53799c53d54b47531656d9a1b8b271be59dc99cf90aafd12a9
b3cfdcd6ffd0e08a55fb9d27a02883e7a7eaecf6fd14a4613984b3ed67feb166
3dc38475216d694062172bdc78ae4204755b026b544737ed5891c744acc49eca
0b72cc16d752ef266bcc655075c53658ecc05d28c57b9bc73806f15a03f5ab4a
1dff4e9d17948095a247edeb23c38e940ea163d6b103869e4abc8aa597a630cb
4cd6e03e7ce7e808e8c8c1f3f21bbecdc7b385f156bcc7ee2390c8c6316fd60c
5f50dcf06dd5fb51b26f815fd8ff6d4a5afa7301e9c7923ea8f75b2b1e224f82
Some SHA256 hashes for extracted JS files:
db5fa717b638d86af42cb1db96002d7e264f9b474bbd34bf3a229bbea0fcc3fc
ca3becff92c6fae2434e57cdc34f1a1ed96d4bf64bb6c0806dd220c71197faa0
2dbdd1d06b37835efeb029ce06ad4d8b6eb334e7702f62e8b1572c2b9c0f0983
4183405b950db6a04d762bb97d27e144a98419755afa7b02a2e353ac2eb2cb08
79cf9a53a96bd9aa7c9f04a90bd3b29f6b48eeb35ac41adba03de143578f60a1
6d0205bca14df731a4aae8a7d8b0e9b5bbc3599a70c89dd2d2ffc4f6290df588
c5c0d0ee70e9e9a25263bca43009061dce8758f839d265ed154d6d064bc31280
592fb4fea1d8c9a9a12e55cf4c2817f0f6467d344460c711d4192dd9ebda32e9
8a4863db3d778387f9d2809481a08a585f20a31022de603c50b9b07f2f4c2860
29feff2c97027661301e2baa1b83bdf40ffb1a56afcfec6ba7811ceaf7bb0c87
13d674b64e66a97d40fb6f38237b450a3af95310d7ed008954c8ab2760361165
e51f36811056d71c970791223da17c3f5b4d84394063a42eb8f2c432e97dba7a
URLs generated by the above extracted JS files:
hxxp://bosnasport[.]info/wp-content/plugins/ad-inserter/css/images/chrome.jpg
hxxp://deepakasso[.]com/wp-content/themes/advisor/fonts/chrome.jpg
hxxp://www.mrtaotao[.]com/wp-content/themes/pacify/images/sserv.jpg
hxxp://azhub[.]us/.well-known/pki-validation/sserv.jpg
hxxp://yueltoursandtreks[.]com/components/com_ajax/sserv.jpg
hxxp://fnbadventure[.]com/components/com_ajax/sserv.jpg
hxxp://xn--e1adigbdjz5k[.]xn--p1ai/includes/sserv.jpg
hxxps://inspierasibunda[.]win/wp-content/themes/superfast/images/sserv.jpg
hxxp://www.izmirlipilavciadnan[.]com/wp-content/themes/twentyseventeen/assets/css/sserv.jpg
hxxp://conseil-btp[.]fr/wp-snapshots/sserv.jpg
hxxp://nexusonedegoogle[.]com/wp-includes/ID3/sserv.jpg
hxxp://tuhoctiengduc[.]asia/wp-includes/ID3/sserv.jpg
hxxp://immergasteknikservisibursa[.]com/js/views/sserv.jpg
hxxps://chasehematite[.]com/wp-content/themes/rara-business/sections/sserv.jpg
hxxp://ansaigon[.]com/templates/tm_parallaite/features/sserv.jpg
hxxp://buivanhuy[.]com/templates/boker/css/fontawesome/css/sserv.jpg
hxxp://grandholidayvacations[.]in/AdminEmail/admin/css/sserv.jpg
hxxp://rhinoarabia[.]site/code.jquery.com/sserv.jpg
hxxp://tiesmedia[.]com/sserv.jpg
hxxp://lilaafit[.]xyz/wp-content/themes/twentyseventeen/template-parts/footer/sserv.jpg
hxxp://marosprint[.]hu/templates/siteground-j15-138/css/sserv.jpg
hxxp://test.kalaakart[.]in/sserv.jpg
hxxp://vincity-oceanpark-gialam[.]com/wp-content/cache/blogs/sserv.jpg
hxxp://mysmilekart[.]com/journal/cache/sserv.jpg
SHA256 hashes of Shade/Troldesh ransomware retrieved from any of the above URLs on still active on 2018-11-28:
0b5ed93a5da40cec20f414028fab9ada951745455c8e982ff67ac39590b9768a
1e01f8ef1610dce5983c628f55d187757af14e3f0ee1bd94e63435bf647177cf
94e39e9710ab725aefe4d7dffe3b93e447210e3b322666b9c8d42b3622094878
981e0d084f78e268294fe3c0a5ecc4869bb189aff927a6b6a5da0cad61b4fca4
a39dc4dc4e01a6c0c819c1fa9faa63811dd2978af85d4474cdc4dfa3dd0601a2
af02d3501fc954f435a0569fd727af9377d54891b4690ccbf7e3e10bf1f6c0dc
d5fe31471af8abcd884108fbbfe776c3df6c988a865e401fc83ccbdfe030ed4e
f140cab283c35c92dc74db53b6d9964706538554d4151a637a406b093746692b
fec5824e87550fc4981606030d7b74f6d00b001de536916b95f7c1d24a8113d8
Malware from an infected Windows host:
SHA256 hash: 5f50dcf06dd5fb51b26f815fd8ff6d4a5afa7301e9c7923ea8f75b2b1e224f82
File size: 2,645 bytes
File name: Okritie.zakaz.docx.zip
File description: Attached zip archive from one of the emails
SHA256 hash: e51f36811056d71c970791223da17c3f5b4d84394063a42eb8f2c432e97dba7a
File size: 5,317 bytes
File name: [garbled characters].js
File description: Extracted JS file from the attached zip archive
SHA256 hash: d5fe31471af8abcd884108fbbfe776c3df6c988a865e401fc83ccbdfe030ed4e
File size: 1,405,704 bytes
File location: C:\Users\[username]\AppData\Local\Temp\rad012AB.tmp (random hex digits)
File location: C:\ProgramData\services\csrss.exe
File description: Initial Shade/Troldesh executable retrieved by the JS file
SHA256 hash: 2824a8ce0e65bb185a88ff1fe5f1df202405c42b6705a420dbc07c565a44b240
File size: 1,635,840 bytes
File location: C:\Users\[username]\AppData\Local\Temp\0123ABCD.exe (random hex digits)
File location: C:\ProgramData\Windows\csrss.exe
File description: Additional malware found on the same infected Windows host
Tor domains from the decryption instructions:
cryptsen7fo43rr6.onion.to
cryptsen7fo43rr6.onion.cab
Email address from the decryption instructions:
Final words
12 email examples, a pcap of network traffic traffic from an infection, and the associated malware/artifacts are available here.
I checked the 28 URLs I found ending in .jpg for delivering the initial Shade/Troldesh malware binary. 17 of them still returned the ransomware executable. All URLs have been submitted to URLhaus, so hopefully they'll all get taken off-line soon. These URLs will not work if you copy/paste them into a browser, because the servers hosting this malware are looking for the right User-Agent string. You'd have to use a tool like curl to spoof the correct User-Agent string and get the malware.


Shown above: An example of using curl to retrieve these ransomware binaries.
Russian language malspam pushing Shade/Troldesh ransomware is not anything new. As mentioned earlier, I posted a diary about it back in 2016 and I doubt it ever really disappeared for long. Nor is this malspam limited to Russian malspam. The example I documented in 2017 was from English language malspam. This diary is yet another reminder that the criminals behind this malware remain active and are still trying to infect vulnerable Windows hosts.
---
Brad Duncan
brad [at] malware-traffic-analysis.net
1 comment(s)
×
Diary Archives